Bali: Foreign Minister Penny Wong says Australia will not budge on protecting its national interests but has declared her meeting with China counterpart Wang Yi an important first step on the road to mending ties with Beijing.
In the latest sign of renewed communication between Australia and China, Wong and Wang met in Bali on Friday night after a G20 meeting, the first such get-together of foreign ministers from the two nations for nearly three years.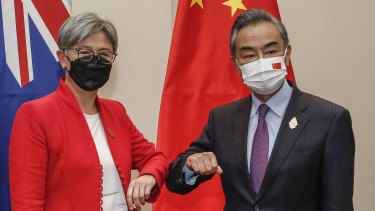 Wong said the pair had spoken "frankly" and "listened carefully to each other's priorities and concerns" on bilateral issues as well as regional and international security.
"This is the first step towards stabilising the relationship," she said. "We are a government and a nation that has made certain decisions on the basis of our national interest, our national security and our sovereignty and we won't be resiling from those.
"But we do think it's in our interests, and we would stay say in China's interests, for the relationship to be stabilised. That's going to take time, that's going to take effort, that's going to take work and it's going to take some nuance."
Wong said she raised China's $20 billion in trade sanctions as well as the detention of Australian journalist Cheng Lei and writer Yang Hengjun during the talks.
Asked what message Wang had delivered, she said: "I think the Chinese position is well known. Its different perspectives are well known and what was put to me reflected what we know China's position to be."
Irritated a by a range of issues including Australian anti-dumping trade measures and the barring of Chinese investments, China has said repeatedly that "concrete actions" are needed from Australia to reset ties.
Wong, however, reaffirmed on Friday it was up to Beijing to remove trade bans to help improve relations, saying such an outcome was in the best interests of both countries.