The Russian state RIA news agency later issued a report saying that Wagner Group took over Soledar's salt mines following "fierce fighting". The salt mines are located in the suburbs of the town. Washington has said Prigozhin may want personal control of the area's mines.
If confirmed, it would be Russia's most substantial gain since last August, after a series of humiliating retreats throughout much of the second half of 2022. Russian forces have been fighting for months to capture the nearby larger city of Bakhmut, a few kilometres to the south-west.
Loading
But any victory would come at a massive cost, with troops from both sides having taken heavy losses in some of the most intense combat since Russia invaded Ukraine nearly 11 months ago. Kyiv has released pictures in recent days showing what it says are scores of Russian soldiers strewn dead in muddy fields.
Moscow says capturing Bakhmut would be a major step to taking full control of Ukraine's Donetsk region, one of four provinces it claimed to have annexed two months ago.
Russia's Defence Ministry did not mention either Soledar or Bakhmut in a media briefing on Monday.
"Russia's Soledar axis is highly likely an effort to envelop Bakhmut from the north and to disrupt Ukrainian lines of communication," the British defence ministry said in a short daily intelligence briefing.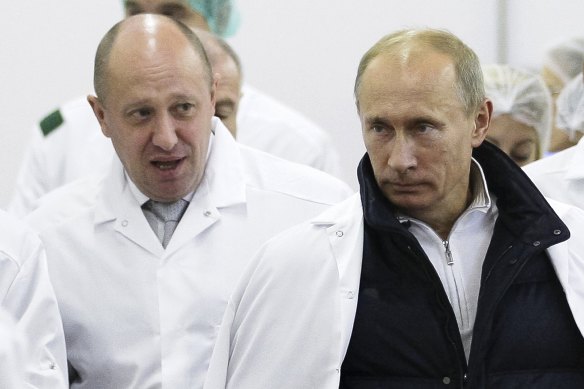 Ukrainian President Volodymyr Zelensky did not mention control of Soledar on his evening address. Zelensky repeated his call for more Western weapons, saying Russia was gathering its forces to intensify its campaign. He did not provide details.
But Ukraine's Defence Ministry tweeted later, "Even after suffering colossal losses, Russia is still maniacally trying to seize Soledar – home to the largest salt mine in Europe."
Ukraine said earlier its forces were still holding on to positions in Soledar, withstanding assaults by wave after wave of Russian forces seeking their first battlefield victory for months.
Zelensky asked "And what did Russia want to gain there? Everything is completely destroyed, there is almost no life left. And thousands of their people were lost: the whole land near Soledar is covered with the corpses of the occupiers and scars from the strikes," he said. "This is what madness looks like."
Near Bakhmut, a team of Ukrainian soldiers was firing volleys of shells from a heavy anti-aircraft gun at what they said were Russian ground positions, across a barren snowy field.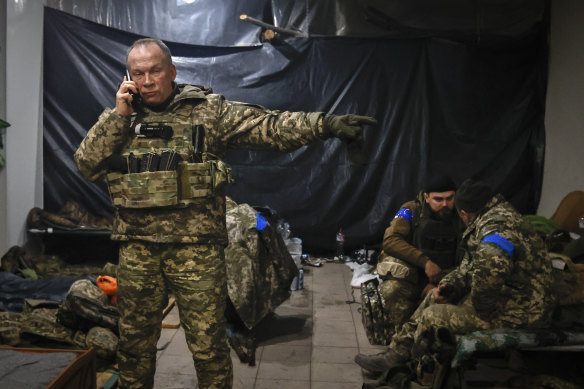 "We're frying orcs," said soldier with the nomme de guerre "Pilot", using a common Ukrainian slur for Russian troops.
His crew receives coordinates of Russian bases from spotters or drones. They periodically shell Russian bases, and unleash storms of heavy fire when the enemy troops advance: "If they creep in very actively, then we kill them in great numbers."
Serhiy Cherevaty, spokesman for Ukraine's eastern forces, said the Russians were deploying their best Wagner fighters at Soledar, which had been struck 86 times by artillery over the past 24 hours.
He compared Russian tactics to World War I: throwing large numbers of men into ground battle and absorbing heavy losses.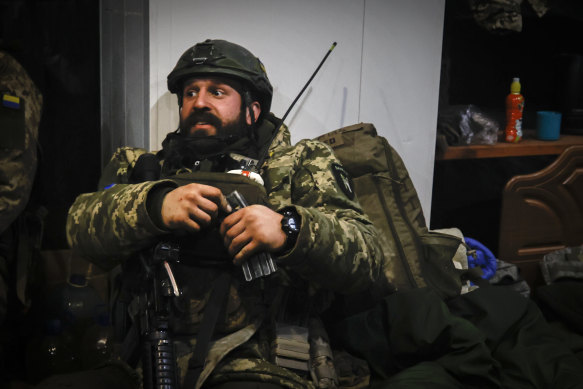 "This is basically not a 21st-century war," he said.
Reuters could not verify the situation inside Soledar itself. Journalist Yuriy Butusov, embedded with Ukrainian troops in Soledar, wrote for the online outlet New Voice that Russian forces had established fire control over the main Ukrainian supply route.
"This is not a complete encirclement, but normal supply along the route is impossible, [and] this is critical for defence," he said.
Loading
Wagner, the mercenary company founded by Prigozhin, has taken a leading role in the Bakhmut fighting as Russia's regular military forces elsewhere on the front line have dug into mostly defensive positions.
Prigozhin, whose fighters are also active across Africa and the Middle East, has released videos showing himself recruiting fighters in Russian prisons with offers of pardons.
He said on Saturday that Soledar was important for a network of cavernous mining tunnels.
Zelensky has repeatedly urged Ukraine's Western supporters to supply more sophisticated weapons. Last week, one of Ukraine's biggest pleas was answered when the United States, Germany and France promised large numbers of Western armoured fighting vehicles for the first time. Kyiv is still seeking Western battle tanks.
In a symbol of Kyiv's battlefield successes of recent months, German Foreign Minister Annalena Baerbock visited Kharkiv. The eastern city, Ukraine's second largest, was nearly surrounded by Russian forces and under constant bombardment until Ukraine drove the Russians from its ramparts in a breakthrough in September that shifted the war's momentum.
Loading
"This city is a symbol of the absolute insanity of the Russian war of aggression in Ukraine and of the endless suffering that people, especially here in the east of the country, are confronted with every day," she said. She promised aid for Ukraine and support in its bid to join the EU.
British Prime Minister Rishi Sunak's spokesperson said London had not yet made a final decision on sending tanks to Ukraine.
Reuters
Get a note directly from our foreign correspondents on what's making headlines around the world. Sign up for the weekly What in the World newsletter here.