Singapore: Vietnam is in the midst of an unprecedented political shake-up after President Nguyen Xuan Phuc became the biggest scalp of an anti-corruption drive that has swept up hundreds of officials from the ruling Communist Party.
Phuc, 68, who had held the position since 2021 and was prime minister for the preceding six years, quit on Tuesday after being held responsible for COVID-related graft offences committed by government figures including ministers.
The role of the president is largely ceremonial in Vietnam but Phuc's exit carries great significance because he is the first member of the four pillars of leadership – Communist Party general secretary, prime minister, president and chair of the national assembly – to resign from his post.
The most powerful is the party chief, Nguyen Phu Trong, who was last year re-elected by the decision-making central committee for a rare third, five-year term, and has led a wide-reaching anti-corruption crackdown.
Dubbed the "blazing furnace", the cleanout has in recent years brought down hundreds of officials within the party, business community and the military and has gathered pace in response to illegal pandemic-era bribery schemes, including one in which virus test kits were sold to hospitals at wildly inflated prices and another in connection with repatriation flights for Vietnamese citizens.
The COVID-19 scandals last year triggered a surge of arrests and sackings, including of the health minister and the mayor of Hanoi, and this month also led to the departures of two of the country's four deputy prime ministers, who had oversight for health and foreign affairs respectively.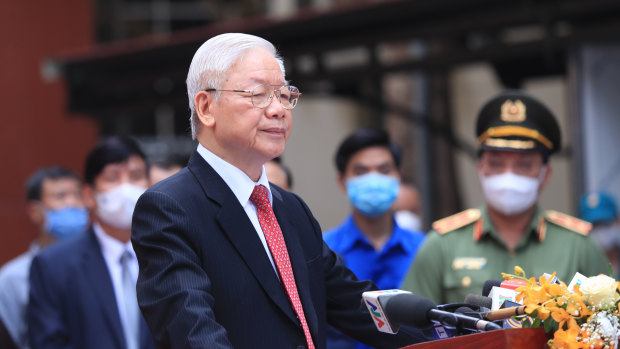 Phuc, who as prime minister was the first South-east Asian leader to travel to Washington to meet then-president Donald Trump in 2017, was deemed culpable of the "wrongdoings and shortcomings" of ministers beneath him, according to a statement from the Communist Party Central Committee reported by state media.
"Fully being aware of his responsibilities before the party and people, he submitted an application to resign from his assigned positions, quit his job and retire," the statement said.