Washington: Ukraine President Volodymyr Zelensky is set to win an extra $US45 billion ($67.4b) to defend his country against Russia, one day after his historic speech urging the US for more weapons.
The money forms part of a broader $US1.7 trillion ($2.5 trillion) spending bill that passed the US Senate on Thursday afternoon (US time), which also includes a suite of other measures, including reforms to electoral laws exploited by Donald Trump in a bid to stop Joe Biden's 2020 victory; a ban on Chinese-owned TikTok being used on government devices: and emergency aid for communities recovering from disasters.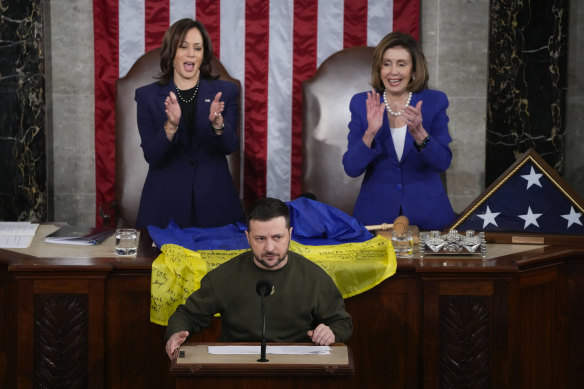 The additional military funding for Ukraine will be welcomed by Ukrainians as Zelensky returns from his surprise visit to the US, where he met with President Joe Biden and later addressed a joint sitting of Congress to make an impassioned plea for more support.
"Your money is not charity. It's an investment in the global security and democracy that we handle in the most responsible way," he told Democrats and Republicans.
"Russia could stop its aggression, really, if it wanted to, but you can speed up our victory. I know it."
Loading
The spending bill passed with the support of some Republicans. It will now go to the House of Representatives, where the Democrats still hold the majority, before being sent to Biden to sign into law, in turn averting a shutdown of government operations due to lack of funding.
However, some are likely to be critical of the hefty $US1.7 trillion price tag, of which almost half – $US858 billion – will go towards defence. In contrast, only $US1 billion will be spent to help poorer countries cope with climate change, far less than Biden's promise to spend $US11.4 billion annually by 2024 to help developing countries tackle global warming.
Among the critics is Trump, who put out a video – only a few hours before the bill passed – urging Republicans to vote against it and describing it "as a disaster for our country" because, in his view, it did not contain enough measures to tackle the surge of migrants crossing the US-Mexico border.