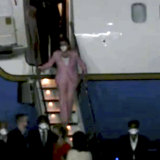 Pelosi's arrival followed a series of escalations by Beijing, some division within the US national security establishment and growing fears the visit may spark an accidental conflict between the world's two largest superpowers.
In its first economic response to what China's Foreign Ministry had labelled "a violation of China's sovereignty and territorial integrity," China on Tuesday blocked the importation of 180 Taiwanese foods including drinks and pineapple cakes and began live-fire exercises off its north-eastern coast.
The measures sent markets in China tumbling and saw the Shanghai Composite and Hong Kong's Hang Seng Index fall by more than 3 per cent.
Pelosi is the highest-ranking serving US official to visit Taipei in decades and the highest-ranking to meet with Tsai.
Republican Newt Gingrich was the last US House Speaker to visit in 1997, but he was not a member of the governing Democratic Party.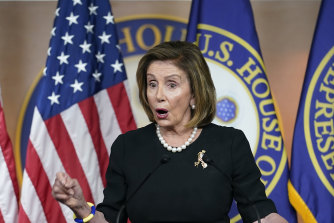 The visit by Pelosi has been viewed by Beijing as an endorsement of Taiwan's government by the Biden administration. Beijing claims self-governed Taiwan is a province of the mainland, despite the Chinese Communist Party never having ruled the neighbouring democratic island of 23 million people.
Pelosi had not commented publicly on the trip before her arrival in Taipei, but plans were leaked to US and Taiwanese media and the reports provoked an increasingly heavy rhetorical response from Beijing. It warned on Monday that its military "will not sit idly by".
"We will not be intimidated by the PRC's weaponisation of trade," said Taiwanese MP Wang Ting Yu, referring to the initials for the People's Republic of China.
But analysts are concerned that Pelosi's visit could escalate the dispute beyond trade sanctions.
"Pelosi's trip is unlikely to start a new crisis in the Taiwan Strait by itself, but it is indicative of a bigger spiral of tension that could lead to a serious crisis, or even an armed conflict, between the United States and China," said the Cato Institute's director of defence policy studies, Eric Gomez.
China began live-fire exercises in the Bohai Sea on Monday and has steadily increased its release of war propaganda to coincide with Pelosi's visit and the 95th anniversary of the People's Liberation Army on Monday.
"The Chinese response will likely involve additional large-scale military activities in the Taiwan Strait. All these manoeuvres in close quarters could lead to dangerous encounters or, worse, an accidental collision, which could in turn spark further brinksmanship and escalation," said International Crisis Group senior analyst Amanda Hsiao.
Loading
"If managed poorly, this event could lock in place a more confrontational approach to the Taiwan issue on both sides, making future dynamics yet more dangerous."
Foreign Minister Penny Wong and opposition foreign affairs spokesman Simon Birmingham have yet to comment publicly on Pelosi's trip, but she has received support from the current and future chairs of the Parliamentary Joint Committee on Intelligence and Security, Liberal senator James Paterson and Labor MP Peter Khalil.
"It's a reaffirmation of the Biden administration's commitment to the region," Khalil told Sky News on Tuesday.
"As James said, this is a really important trip because it is all about US presence and US engagement, both economic and in a security sense in our region as a stabilising force."