The entire side of the nursery building was charred, with a gaping hole above the entrance, where the helicopter's rotor blades rested. Nearby, debris was strewn over a muddy playground and the helicopter wreckage lay crumpled by an apartment block.
Several dead men lay in a courtyard, wearing blue uniforms and black boots visible from under foil blankets draped over the bodies.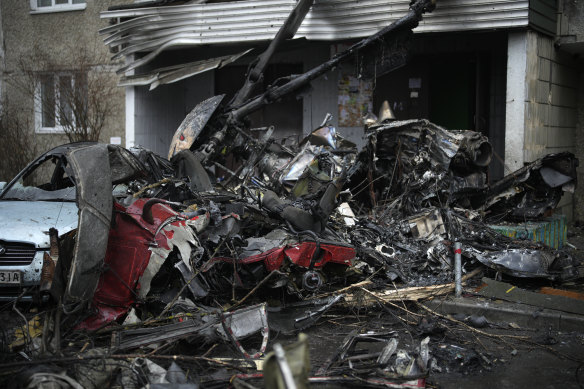 Vitaliy, 56, said he saw the aircraft fall quickly and crash onto the grounds of the nursery before debris was hurled further into the block of flats. "I thought it was the engine from a rocket or something like that, something very large," he said.
President Volodymyr Zelensky ordered an investigation into what he said was a "terrible tragedy".
"The pain is unspeakable," he said in a statement.
Later, in a question and answer session by video link with the World Economic Forum (WEF) in Davos, Switzerland, Zelensky said he was not worried about his own personal security in the wake of the helicopter crash.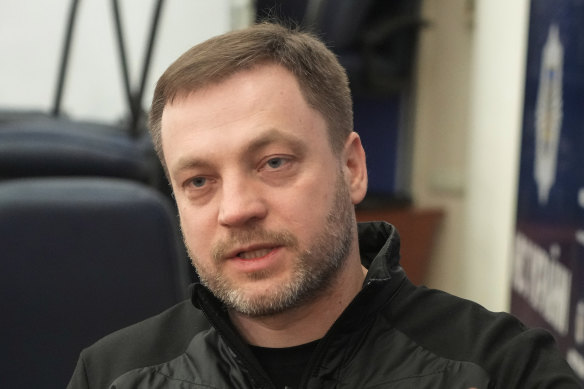 Monastyrskyi died alongside his first deputy, Yevheniy Yenin, and other ministry officials flying in the helicopter operated by the state emergency service.
Ukraine's SBU State Security Service said it would consider possible causes including a breach of flight rules, a technical malfunction or intentional destruction.
Zelensky wants western tanks by Easter
Loading
Since Ukraine wrested back significant territory in the east and south in the second half of 2022, front lines have hardened and Kyiv says new Western weapons especially heavy battle tanks are vital for it to regain momentum this year.
In a speech by videolink to the WEF, Zelenskiy said Western supplies of tanks, and air defence systems to blunt Russia's missile strike campaign, should come more quickly and be delivered faster than Moscow is able to carry out attacks. In the latest announcement of new aid, Canadian Defence Minister Anita Anand visited Kyiv on Wednesday and pledged 200 Senator armoured personnel carriers.
On Friday, Western allies will gather at a US air base in Germany to offer more weapons for Ukraine. Attention is focused in particular on Germany, which has veto power over any decision to send its Leopard tanks, fielded by NATO-allied armies across Europe and widely seen as the most suitable for Ukraine.
Polish President Andrzej Duda told the Davos gathering he was afraid Russia was preparing a new offensive in Ukraine within months and it was therefore crucial to provide additional support to Kyiv with modern tanks and missiles.
Poland and Finland have already said they will send Leopards if Germany approves them. Berlin says a decision will be the first item on the agenda of Boris Pistorius, named Germany's new defence minister earlier this week.
Lithuanian Foreign Minister Gabrielius Landsbergis said in Davos that he expected a decision to send tanks. "I'm confident because this is what I'm hearing here, talking with other leaders. There is momentum," Landsbergis told Reuters.
Russian President Vladimir Putin, visiting an air defence factory in St Petersburg, said Russia's military industrial might meant "victory is assured, I have no doubt about it".
Foreign Minister Sergei Lavrov said Moscow saw no prospects of peace talks and there could be no negotiations with Zelensky. Russia has said talks are possible only if Ukraine recognises Moscow's claims to Ukrainian territory; Kyiv says it will fight until Russia quits all of Ukraine.
In the central city of Dnipro, the civilian death toll from a missile that struck an apartment block on Saturday rose to 45, including six children, among them an 11-month-old boy, Zelenskiy said in his nightly video address on Tuesday.
Around 20 other people are still missing after the attack, the deadliest for civilians of a three-month-old Russian missile bombardment campaign against cities far from the front.
Moscow denies intentionally targeting civilians. It launched what it calls its special military operation in Ukraine last year saying Kyiv's increasing ties with the West posed a security threat.
Tens of thousands of people have been killed and millions forced to flee homes in what Kyiv and the West call an unprovoked invasion to subdue Ukraine and seize its land.
Reuters