Earlier today, in a legal filing, the US Justice Department defended its decision to seize the phone of John Eastman, the attorney who helped devise Trump's strategy to turn back the 2020 election results, Politico reported.
The former president, infamous for exaggerations and lies, claimed that he was once again being politically persecuted by "radical left Democrats" and likened the events to Watergate, the 1972 bungled burglary that led to the biggest political scandal of its time.
"What is the difference between this and Watergate, where operatives broke into the Democratic National Committee?" he asked, before claiming: "Here in reverse, Democrats broke into the home of the 45th president of the United States."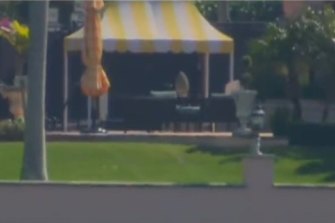 The alleged raid comes three months before the midterm elections, and as candidates who espouse Trump's false claims that the last presidential election was stolen are steadily advancing through their primaries.
This has worried the old guard in the Republican Party who fear that some of those nominees are too extreme to appeal to mainstream voters, particularly in the suburbs where elections are often won or lost.
The latest case study of Trump's brand of election denialism emerged in Arizona on Tuesday, where three Republicans who back his lies won important positions in the critical swing state.
The White House is yet to respond to the matter, referring questions to the Justice Department, which is also yet to respond.
The Justice department has charged about 800 defendants for their roles in the January 6th attack, but has been criticised for moving too slowly in probing Trump and his inner circle.
Attorney General Merrick Garland has simply said the department will "follow the facts, wherever they lead."