Singapore: Former Malaysian prime minister Najib Razak has been jailed after failing in his final appeal to overturn a conviction for corruption over the multibillion-dollar 1Malaysia Development Berhad (1MDB) scandal.
The 69-year-old, who led Malaysia between 2009 and 2018, was sentenced to 12 years in prison in 2019 after being found guilty in the first of five trials connected to the looting of the country's sovereign wealth fund.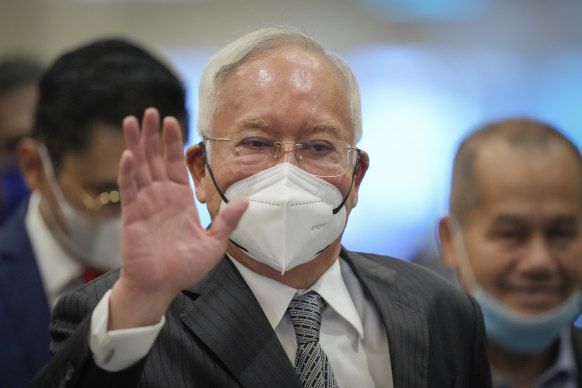 He had been granted bail while mounting two appeals and continued to serve as an influential MP with the United Malays National Organisation, the all-powerful party that has dominated politics in the country for most of its 65 years since independence.
However, Malaysia's highest court upheld the conviction on Tuesday, ordering Najib to serve his sentence.
His jailing is a landmark moment for the South-east Asian nation, which has been dogged for years by a scandal whose tentacles reached Hollywood, New York, London and the Middle East, and led to a historic election loss for his party in 2018. As much as $US4.5 billion ($6.5 billion in today's money) was stolen from state coffers and splashed on high-end properties, yachts, private jets and the funding of the movie The Wolf of Wall Street.
Najib had been convicted of seven charges of criminal breach of trust, money laundering and abuse of power relating to the misappropriation of 42 million ringgits ($14 million) from SRC International, a subsidiary of 1MDB, the fund he established soon after becoming prime minister 13 years ago.
The five-member Federal Court panel said it unanimously found his appeal "devoid of any merits" and rejected his application for a stay of sentence.
Najib, whose wife Rosmah Mansor is also facing her own trial over the scandal, turned up to Malaysia's Palace of Justice on Tuesday to a raucous reception from supporters who had been transported to the court complex at Putrajaya, the administrative centre, on buses.