One of them, We Buy Gold, deals in gold, silver and platinum jewellery – items Zakeri equates to the movie's treasure. He also manages an escape-room company, which Zakeri compared to the group navigating caverns in the film.
"Having that relentless pursuit for success, in the case of the movie, it's finding One-Eyed Willy's treasure," Zakeri said. "In business, it's not going out of business, making money and paying the bills. I applied the same principles in business."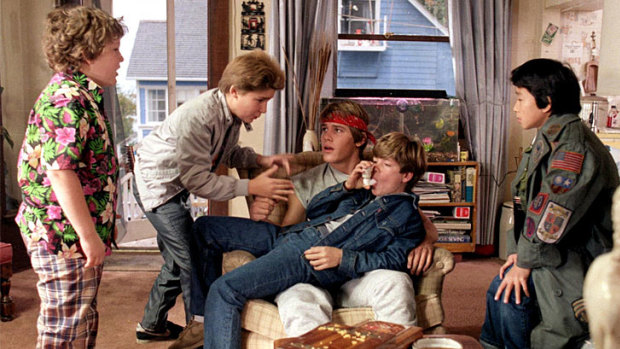 In 2013, Zakeri attended a friend's birthday party in Portland, Oregon, and learned that the Goonies house wasn't far away. He and a friend drove nearly 160 kilometres to take pictures in front of the residence, which was built around 1896 and sits near the Pacific Ocean.
Zakeri also toured the two-story home in June 2015, when he visited for the film's 30th anniversary. He was ecstatic to climb into the attic and sit in the living room.
"Hey, if you ever sell this thing, I'd love to buy it," Zakeri said he told the owner, Sandi Preston, who bought the property in 2001.
"Yeah, you and a million other Goonies," Zakeri recalled Preston saying.
In 2015 Preston became so overwhelmed by hundreds of fans turning up at the house unannounced that she covered the windows with blue tarpaulins and erected a sign: "Access Closed to Goonies House". Sean Astin, who starred in the film as a 14-year-old wrote an open letter to fans telling them to "back off" and to give Preston "room to breathe".
When the house went on the market in November, Zakeri's friends showed him the posting within minutes. Zakeri said he messaged Preston: "Remember me? I'm going to make a run at this thing."
Loading
Zakeri called real estate agent Jordan Miller that day and explained his passion for The Goonies. Zakeri called Miller almost every day over the next week for updates. On November 23, six days after their initial call, Zakeri's phone rang.
"Check your inbox," he recalled Miller saying. "You're officially under contract for the 'Goonies' house."
With family at his Overland Park house for Thanksgiving, Zakeri said, he threw his phone across the living room, screamed and jumped on his furniture.
"I'm 8 years old again," Zakeri said.
"I couldn't really imagine much better of a buyer," Miller said. "There's been concerns about, 'Oh, is some big company going to come in and buy it, change a bunch of stuff or try to make money off the house?' That's not his vision whatsoever."
Recognising the film's themes of companionship, Michael Eakin, Zakeri's childhood friend, purchased a house next door to the Goonies home. While Zakeri and his wife, Liz, will primarily live in Kansas, he intends to redecorate the Goonies house as it appeared in the movie.
That includes installing a zip line like the one Richard "Data" Wang rode in the movie and painting dark-red trim on the home's exterior. In the basement, he may build a wax statue of Steven Spielberg, who wrote the film's story. He hasn't cemented arrangements, but Zakeri said he wants the house to be a gathering spot for fans.
"I'm just super excited to try to be the best I can be for the Goonies community," he said.
The Washington Post