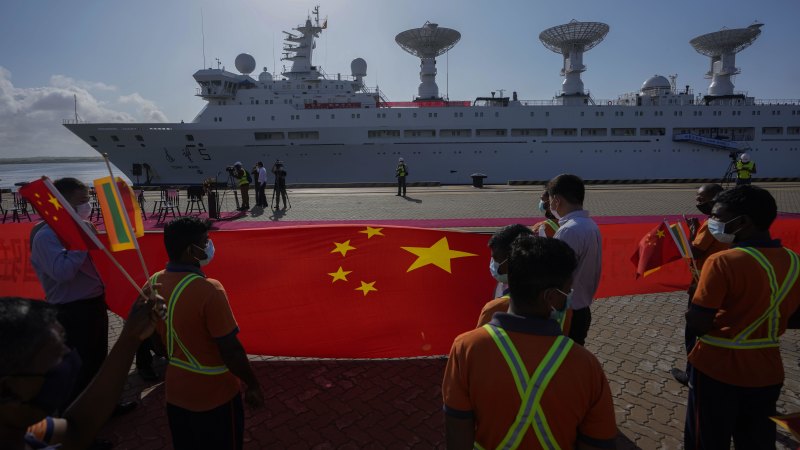 The country has faced economic and political collapse in recent months and is heavily dependent on both China and India for financial aid. It finally gave the green light to the survey vessel on Saturday, reportedly on condition that it would not carry out research in Sri Lankan waters.
Loading
India has rejected claims it pressured Sri Lanka to deny the vessel permission to dock, but New Delhi is concerned about China's growing footprint on the island, which is heavily indebted to Beijing's Belt and Road Initiative, in particular over loans it incurred building the Hambantota port.
India's fears that China could use the port, near the main Asia-Europe shipping route, as a military base, are shared by the US and its allies.
Tensions between Washington and Beijing hit new heights earlier this month after Beijing carried out huge air and sea drills around Taiwan in a furious response to a visit by Nancy Pelosi, the house speaker, to Taipei.
The Chinese Communist Party claims Taiwan as its own territory even though it has never ruled there and its military fired multiple ballistic missiles into the waters around the island after Pelosi left – the first time it has done so since the mid-1990s.
Vice-Adml Karl Thomas, commander of the US Seventh Fleet, said: "It is very important that we contest this type of thing. I know that the gorilla in the room is launching missiles over Taiwan.
"If we just allow that to happen, and we don't contest that, that will be the next norm.
"It's irresponsible to launch missiles over Taiwan into international waters, where the shipping lanes, where free shipping operates."
His comments came after China conducted military drills on Monday as another congressional delegation visited the island. Chinese state media ran footage of Taiwan's Penghu islands reportedly taken from Chinese jets flying a short distance from the archipelago, which has a major Taiwanese airbase and is a popular holiday destination. Taiwan described the reports as "cognitive warfare".
On the same day, the US said it had conducted a missile warning and a ballistic missile search and tracking drill with Japan and South Korea off the coast of Hawaii.
Telegraph, London
Get a note directly from our foreign correspondents on what's making headlines around the world. Sign up for the weekly What in the World newsletter here.