First published in The Sydney Morning Herald on July 16, 1997
Sydney's Jewish community was in shock last night after a bridge collapse in Tel Aviv claimed the lives of two Australian athletes and left seven others critically injured.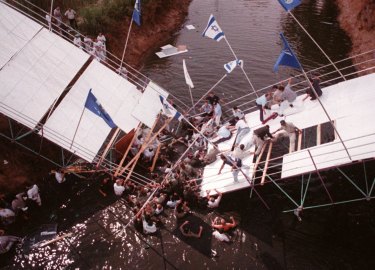 Australia's Jewish ten-pin bowling champion, Mr Gregory Small, 37, an accountant of Blakehurst, and the ten-pin bowls team manager, Mrs Yetty Bennett, 50, a saleswoman from St Ives, were killed when the wooden bridge collapsed as the athletes crossed it during the opening of the Maccabiah Games. Sixty-six people were also injured.
Mrs Bennett's partner, Mr Frank Gaenslyer, 53, remains in a critical condition. Among the others critically injured are Bondi tennis player Sacha Elterman, 15, swimmer Cherie Silver, 14, Australian chess champion, Mrs Irena Berezina-Feldman, 32, also from Bondi.
Another 18 people remained in hospital in Tel Aviv last night with minor injuries.
"I don't know whether there is a Jewish family in Australia who does not know someone in the team," said Mr Jeremy Jones, executive vice-president of the executive council of Australian Jewry.
Jewish Community Services has set up a hotline (Telephone 9369 1400) for those wishing to know more information or to receive counselling.
The Australian delegation at the Games – sometimes referred to as the Jewish Olympics – decided to continue to compete in the Games, which were suspended for 24 hours to mourn the deaths.
Before the delegation met, the Australian team manager, Mr Harry Porcel, among others, cited the example of the Israeli athletes who continued to compete in the Munich Olympics in 1972 despite the massacre of their colleagues by Arab terrorists.