"There's a concept that runs throughout the entire organisation that says your spiritual standing is directly impacted by the amount of money you give," he says. "In the US you're meant to give 10 per cent of your pre-tax income every month. In Japan, it's 30 per cent. But that's just to start with."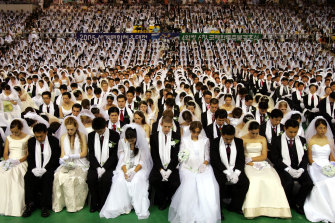 On top of this, further donations are expected, he says, in order to "liberate your ancestors" and for a multitude of other "spiritual reasons". Ancestor liberation ceremonies are held, in Chryssides' words, to "promote ancestors in the spiritual world"; or, as the late Reverend Moon put it, to "completely change the lineage of all human beings back into God's lineage, as completely ideal sons and daughters" because "most of your ancestors have actually gone to hell". Liberating them can cost up to hundreds of dollars.
Strait entered a marriage arranged by the church in his early 20s. It ended about four years ago. It was then that he started to investigate it and how it had affected his life. He uses his podcast, Falling Out, to tell his story and those of other people who have broken away from the religious movement.
Founded in 1954, the church's teaching is a variation on Christian theology, underpinned by the belief that by sinning, Adam and Eve failed to realise God's purpose and that Jesus' failure to complete God's plan meant a new messiah was required: namely Reverend Moon. The movement spread to the West in the late 50s and was labelled a "cult" in the 70s.
Strait estimates its global membership today is well under 50,000, with fewer than 10,000 in Japan and less than 2000 in the US. But precise and reliable figures are hard to come by. Chryssides says global membership is thought to be between 200,000 and 250,000, while the Financial Times reported this week the Japanese branch, which opened in 1959, has 600,000 members.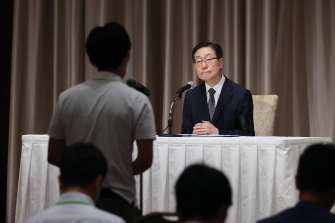 Today, the movement is split. Since the death of Moon 10 years ago, his wife, Dr Hak Ja Han Moon, has led the main branch of the church while two of his sons lead two other, smaller branches. "Although they've disappeared from the public eye, there are still things happening," says Chryssides. "There are acrimonious legal disputes going on about who's entitled to Moon's assets."
Moon, a controversial evangelist and businessman who served a prison sentence for tax evasion in the US in 1982, is said to have had a net worth of $US900 million when he died aged 92, with interests in, among other things, a gun manufacturer, the Washington Times, a football team and a car manufacturer.
During his long career, he had also established other organisations. Among them was the Universal Peace Federation, which is still going strong and boasted a string of high-profile speakers at its global summit in February this year. According to its website, these included former US president Donald Trump, former US vice president Mike Pence, former Canadian prime minister Stephen Harper. And, yes, Shinzo Abe.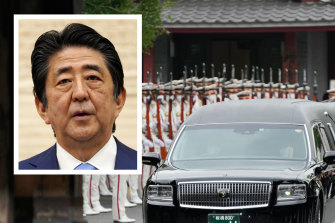 These names are used to bolster the standing of the church, Strait claims. "I don't actually think [the Moonies] are weakened," he says. "I think they have deep ties to Japan that go beyond Abe."
In a recent YouTube video, he alleges they have "intentionally embedded themselves in politics".
They are also believed to own a large amount of property in Korea, Japan and the US. While the size of the church appears to have diminished since its heyday, the allegations made by Abe's alleged killer has brought a new wave of scrutiny to the decades-old movement. The Telegraph has contacted the church for comment.