Because the damage from Harry's post-traumatic injury burns like a flame in all of his interviews. A boy who was not hugged by his father when his mother suddenly (and in his mind, suspiciously) died. Who for many years harboured fantasies, believing Diana had staged her own death and would return to collect him one day. Who asked a driver to race through the same tunnel in which Diana died, at the same speed. Who requested photos of the car accident and observed, painfully, that as his beloved mother lay dying, she was surrounded by clicking paparazzi, the blinding of flashbulbs.
Today, Harry still sees his mother in his dreams.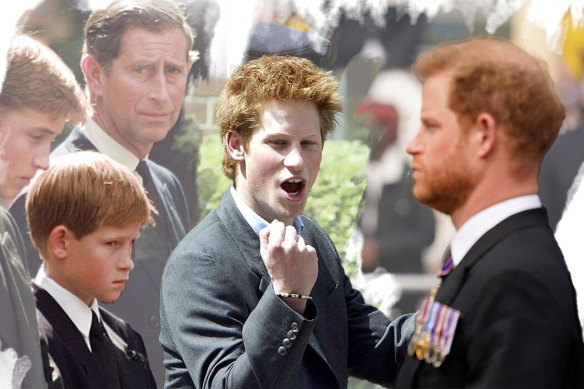 The most detailed study of the grief of kids following the sudden death of a parent was published in 2018. The researchers followed 216 grieving children aged 7 to 17 for a decade and compared them to 172 demographically similar non-bereaved kids. They found not just a higher rate of depression among the bereaving kids but, also, "an increased vulnerability to subsequent negative life events". And that's without global scrutiny.
As psychiatrist Bessel van der Kolk wrote in his bestselling and seminal work on the enduring impact of psychological trauma, The Body Keeps the Score: Brain, Mind, and Body in the Healing of Trauma, "Being traumatised means continuing to organise your life as if the trauma were still going on — unchanged and immutable — as every new encounter or event is contaminated by the past."
Think of how terrified Harry has been that he or his wife might be killed, that history might be repeated, that he might be a single father – and how the royals kept paying for Prince Andrew's security but not his own, despite the death threats.
Loading
I am, of course, no psychologist, but I can't help but wonder why more don't seek a better understanding of childhood trauma here. Perhaps we could learn something.
Much of van der Kolk's book could be applied to Harry: "If you come from an incomprehensible world filled with secrecy and fear, it's almost impossible to find the words to express what you have endured. If you grew up unwanted and ignored, it is a major challenge to develop a visceral sense of agency and self-worth."
Harry was not ignored and was immensely privileged, but according to his account, he was not nurtured after the death of Diana, not understood and not cared for when needed. He was the expendable "spare". Charles has since apologised that he had not got him help earlier.
The lad is still grieving. And yet, the stories of family rifts continue – imagine your family leaking private conversations, feeding the media stories about siblings of children to make themselves look better.
Little wonder he feels he has little to lose.
The Opinion newsletter is a weekly wrap of views that will challenge, champion and inform your own. Sign up here.