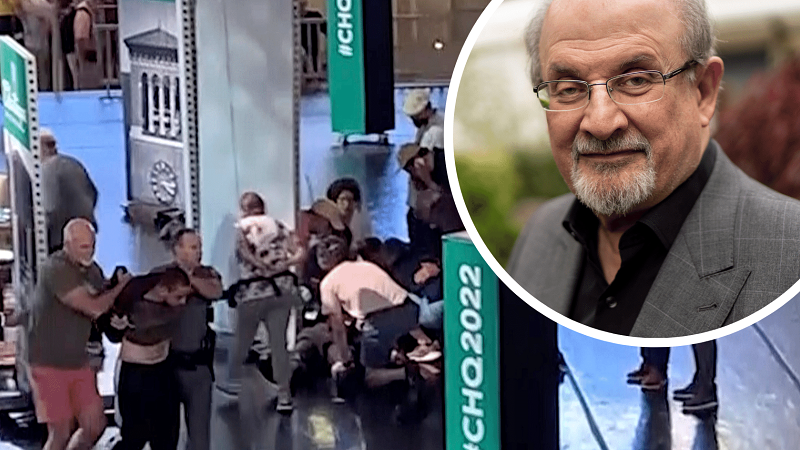 Police said on Friday they had not established a motive for the attack on Rushdie, 75, who was being introduced to give a talk to an audience of hundreds on artistic freedom when the attacker rushed to the stage and lunged at the novelist. Rushdie has lived with a bounty on his head since 1989.
NBC New York said the official told it that there were no definitive links established to the IRGC, but the initial assessment indicated the suspect was sympathetic to the Iranian government group.
The IRGC is a powerful faction that controls a business empire as well as elite armed and intelligence forces that Washington accuses of carrying out a global extremist campaign.
There has been no official government reaction in Iran to the attack on Rushdie, but several hardline Iranian newspapers expressed praise for his assailant.
Ali Tehfe, mayor of Yaroun in the south of Lebanon, said that the suspect was the son of a man from the town. The suspect's parents emigrated to the United States and he was born and raised there, the mayor added.
Loading
Asked if the suspect or his parents were affiliated with or supported the Iran-backed Hezbollah group in Lebanon, Tehfe said he had "no information at all" on their political views.
An official from Hezbollah told Reuters on Saturday that the Iran-backed Lebanese armed group had no additional information on the attack on Rushdie.
The stabbing was condemned by writers and politicians around the world as an assault on freedom of expression.
Rushdie, who was born into a Muslim Kashmiri family in Bombay, now Mumbai, before moving to Britain, has long faced death threats for Satanic Verses. The 1988 novel, viewed by some Muslims as containing blasphemous passages, was banned in many countries with large Muslim populations.
In 1989, Ayatollah Ruhollah Khomeini, then Iran's supreme leader, pronounced a fatwa, or religious edict, calling upon Muslims to kill the novelist and anyone involved in the book's publication for blasphemy.
Reuters