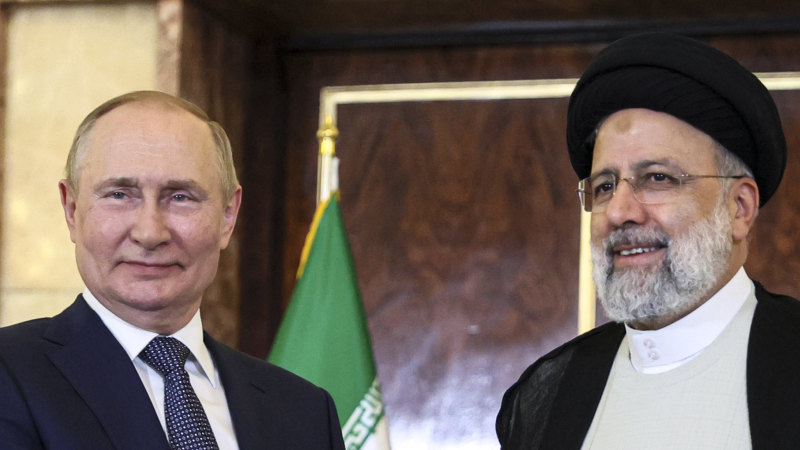 It will be the 16th such drawdown of money approved by Congress and allocated under presidential authority, he said.
Loading
The package is expected to include US mobile rocket launchers, known as HIMARS, and rounds for Multiple Launch Rocket Systems as well as artillery munitions.
The United States has provided $8 billion in security assistance since the war began, including $US2.2 billion in the last month.
Washington will impose sanctions on officials involved in representing themselves as proxy officials, Kirby said. He predicted these proxies to try to hold "sham referenda" seeking to legitimatize Russian control.
Ukraine's parliament dismissed the domestic security chief and prosecutor general on Tuesday, two days after President Volodymyr Zelensky suspended them for failing to root out Russian spies.
Ivan Bakanov was fired from his position at the helm of the Security Service of Ukraine (SBU) by a comfortable majority, several lawmakers said on the Telegram messaging app.
The head of Zelensky's political faction said Iryna Venediktova had also been voted out as prosecutor general.
Zelensky later announced he had fired one of the SBU's deputy heads but gave no details. In a late night video address, he also said he had appointed five new regional SBU directors.
In a statement published on Telegram minutes before his dismissal was confirmed, Bakanov said "miscalculations" had been made during his tenure, but that he was proud of his record.
Vladimir Putin met Iranian Supreme Leader Ayatollah Ali Khamenei in Tehran on Tuesday, stressing closer ties in the face of Western pressure over the war in Ukraine, as Russian forces struck more targets across the country.
Loading
During his Iran visit Putin also met Turkish President Tayyip Erdogan to discuss a deal that would resume Ukraine's Black Sea grain exports, now blockaded by Russia. Putin said that not all the issues had been resolved yet on grain shipments, "but the fact that there is movement is already good."
It was Putin's first in-person meeting with a NATO leader since Russian troops invaded Ukraine on February 24 and was a pointed message to the West about Russian plans to forge closer strategic ties with Iran, China and India to help offset Western sanctions imposed over the invasion.
The trip shows how isolated Russia has become, said White House national security spokesman John Kirby.
Kirby also said the United States was preparing to unveil another weapons package for Ukraine. Citing US intelligence, he accused Russia of laying the groundwork to annex Ukrainian territory.
In Moscow, former Russian president Dmitry Medvedev said that any peace in Ukraine would be the way Moscow wanted it.
"Russia will achieve all its goals. There will be peace – on our terms," said Medvedev, who is now deputy head of the Kremlin's Security Council.
Reuters