Re told the congregation Pell had "a strong personality" that could seem harsh and referenced his "unjust and painful condemnation" and subsequent acquittal for sexual abuse charges, saying: "He bore this unjust penalty with dignity and inner peace".
Re said Pell's death came "as a shock to us all". He said Pell was man of God a man of the church and was "concerned only with being faithful to Jesus Christ".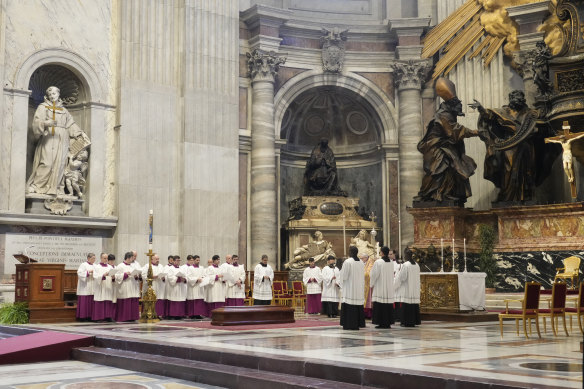 The cardinal's casket was covered with a white pall and blessed with holy water, reminiscent of the joy of baptism. A gospel book was placed on it, a sign that those who remain must carry on the Gospel of Christ to the world.
Pell's dark brown wooden coffin had been lying in state before the funeral where, even in death, the late cardinal was fighting for the traditionalist cause.
Having rarely taken a backward step over his lifetime, Pell's funeral preparations were overshadowed by revelations he was the likely author of an anonymous memo last year that branded Francis' pontificate a "catastrophe".
The pope's economy minister for three years, Pell, 81, died on Tuesday night in a Rome hospital of heart failure after hip replacement surgery. The operation was understood to have been considered a success and Pell was conscious and chatting to the nurses caring for him before he went into cardiac arrest.
Long one of the church's most influential prelates, Pell played an outsized role in religious affairs in Australia, having been a leader of the Australian church's conservative bloc.
A priest from the diocese of Ballarat, Pell was appointed as auxiliary bishop for Melbourne in 1987 and as archbishop in 1996. He was named archbishop of Sydney in 2001 and made a cardinal by Pope John Paul II in 2003.
On Wednesday Italian journalist Sandro Magister, a friend of Pell who has a long track record of receiving leaked Vatican documents, published an anonymous memo circulating in the Vatican condemning Francis' papacy as a "disaster" and outed Pell as its author.
He disclosed on his influential Vatican blog, Settimo Cielo, that it was Pell who had given him permission to publish it under the pseudonym "Demos" – meaning "The People" in Greek.
The memo criticised the Vatican's silence on issues involving the church including the war in Ukraine, human rights in mainland China and Hong Kong, and its move in some quarters to embrace the LGBTQI community, women priests and divorce.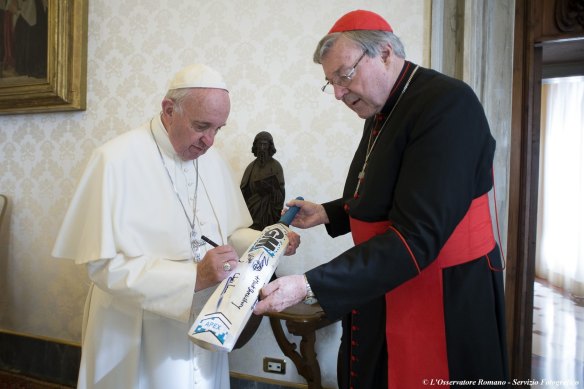 Churchmen were overheard in cafés near the Vatican on Friday gossiping about the revelation and Pell's final hours.
"Everyone here is talking about it," a Vatican official who spoke on the condition of anonymity, told Reuters. The official said he did not doubt that Pell was the author but said the revelation should have been held back until after his funeral "out of respect for the dead".
Pell's personal secretary, Father Joseph Hamilton, declined to comment on the report and Vatican spokesperson Matteo Bruni said he had no comment.
But one friend of Pell, Jesuit Father Joseph Fessio, founder and editor of Ignatius Press, a Catholic publishing house in San Francisco, voiced scepticism that Pell authored the memo.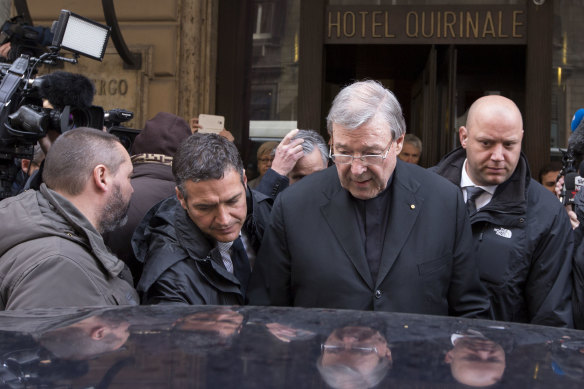 "I think it's just pure speculation as to whether he's the author or not," Fessio told EWTN, a global Catholic news service.
"He's said enough things publicly that we can understand what his views were on these things. I will take a sed contra [counter view] on this. George Pell was a loyal son of the church. He would not publicly criticise the Holy Father, and I doubt that he would put his signature to something, even anonymously, that would be public criticism."
The critical tone of the memo was matched by a more recent writing by Pell, published posthumously by the British magazine The Spectator, in which he called Francis' three-year-long Synod on Synodality a "toxic nightmare".
Pell spent 404 days in a Victorian prison after he was convicted on sexual abuse charges. He was acquitted in a unanimous decision of the full bench of the High Court in 2020.
Loading
He was admired internationally as a leader of stature and theological orthodoxy, but to many in Australia he was forever tainted by his conviction and exoneration, and for turning a blind eye to paedophiles within the Victorian branch of the church over many years.
Donald McLeish of the Survivors Network of those Abused by Priests (SNAP) said its members did not celebrate the death of anyone, even of a man "despised and mistrusted" by thousands of survivors and supporters in Australia and beyond.
"George Pell had become a target and focus for survivors, and seen as the embodiment of the church's attitude to those sexually abused by clerics, religious brothers and sisters, and lay employees of the Catholic Church in Australia," he said.
"Pell, rather than being instrumental in change as a church senior leader supporting survivors and victims of sexual abuse, adopted, even refined, the long-standing church practice of secrecy, and protecting the institution, seemingly at all costs."
Loading
Since returning to Rome in late 2020, Pell had become an influential figure within the conservative movement in the Vatican and was playing a central role to promote a traditionalist candidate to succeed Francis on his death or potential resignation.
Australian government officials have arrived in Rome to help escort Pell's body back to Australia following the funeral. He will be buried in the crypt at St Mary's Cathedral in Sydney, where he served as archbishop.