There were 220,000 visitors to the park in 2019, the last year before the pandemic. Indonesia's tourism industry is slowly recovering but such a price hike may set it back again.
"I think that this is the future here – only certain people can to go the Komodo islands and the local tourism business will be marginalised," Tali said. "Tourism is supposed to be enjoyed by all people."
In reaction to the protest the fee hike has now been pushed back, although only until January.
The decision was made at the instruction of President Joko Widodo, said Sandiaga Uno, minister for tourism and creative economy.
It comes after backlash to a four-fold planned mark-up at another leading Indonesian tourist attraction. Access to the top of Borobudur, the world's largest Buddhist temple, located in Central Java, was to jump for domestic and international tourists.
The provincial and central governments had signalled the rise because of the continuous decline of the surface of the 9th-century temple but protests forced it to be postponed until next June.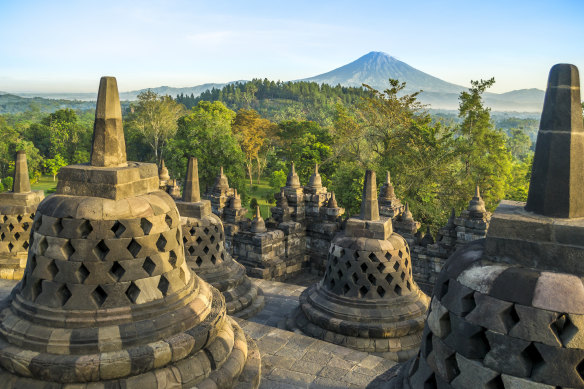 At Komodo National Park, Uno said "these are efforts made for conservation and economic recovery".
Its Komodo dragon population is stable and last year totalled 3458 including 1383 adult lizards, according to government figures. However, in 2021 the species was added to the International Union for Conservation of Nature's endangered list and its shrinking habitat is a major concern, particularly because of rising sea levels.
As well as the pending price rise to see the Komodo dragons, there are other changes afoot.
Viktor Laiskodat, the governor of East Nusa Tenggara, the province in which Komodo lies and whose state-owned company will impose the new charges, wants to lower the annual cap on tourists to the park from 245,000 to 200,000.
"We want to safeguard the ecosystem and the Komodo dragons," said Zeth Sony Libing, the tourism chief in East Nusa Tenggara.
But with the livelihoods of many locals at stake, they face a delicate balancing act.
Another tourism industry representative in Labuan Bajo, who did not want to be named, said the fee hike would "kill the business here".
Loading
"Remember, East Nusa Tenggara is one of the poorest provinces in Indonesia," he said. "The solution for poverty is to create jobs and the tourism sector in Labuan Bajo is so far able to provide jobs for local people.
"So, the elite must be wise. The difficult situation now is getting more difficult due to the pandemic and the war in Ukraine. We were happy that the pandemic seemed to go away but then we were hit again by the Russia-Ukraine war. It caused an increase in oil prices which affected the aeroplane ticket fares."
Tali, the travel agent in Labuan Baju, said he had already had tour packages cancelled. He fears the steep increase will force him to close his business.
Loading
"We agree to an increase of price but not that amount," he said. "This new policy is a dilemma for us. Personally and with my other friends, we object to it. We hope the government will reconsider it."
– with Reuters