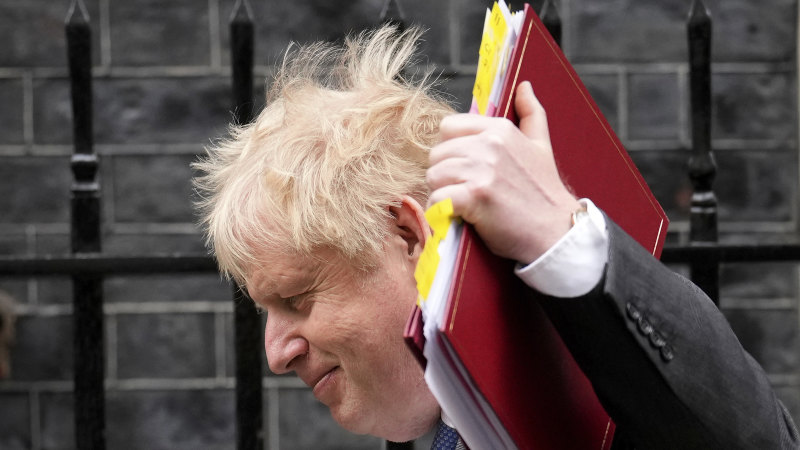 When pressed if he regretted the way he dealt with sleaze and misconduct allegations that ultimately led to his forced resignation, Johnson said: "All those things have to be handled carefully and sensitively, and we have processes for dealing with them, and people who have complaints should raise them in the normal way."
Loading
He declined to give himself a rating out of 10 for his term in office, but, speaking during a visit to Dorset, he admitted his replacement as prime minister would have to announce additional support to help people with the cost of living. "It is going to be tough in the months to come," he said.
Johnson has been a towering figure in British politics for more than a decade, recovering from being sacked from his party's frontbench in 2004 over lurid claims about his love life to becoming a popular two-term mayor of London. He has played up his oafish reputation and because of it struggled to be taken seriously.
Several surveys of Conservative members reveal about 50 per cent think he should not have resigned in July and another, last week, uncovered a striking lack of enthusiasm for either Liz Truss or Rishi Sunak as when asked whether they would prefer one of them to Johnson to run the party and country.
When offered the choice of Johnson still being in No.10, or Truss taking over, some 63 per cent said they would prefer Johnson against 22 per cent who wanted Truss. Even more starkly, 68 per cent said they would prefer to still have Johnson than see him replaced by Sunak, who was preferred by just 19 per cent.
But nobody left in Britain, and perhaps even further afield, was left agnostic about Johnson in the end.
Research by Ipsos last week found Britons were more likely to say he had done a bad job as prime minister than any other person to hold the position since World War II – although he also ranked fourth on those seen to have done a good job.
Winston Churchill, Johnson's idol, topped the list of those prime ministers the public think has done a good job. He was, of course, given a second chance by the electorate after losing an election.
"In general, we expect too much of politicians," wrote Henry Mance of the Financial Times at the weekend. "But if we excuse Johnson for 20 years of ignoring the ethical standards that underpin the whole system, we expect too little. He was not Donald Trump, but it doesn't matter whether it's a pool of mud or a pool of horse manure that you're shoved into: in either case, you deserve a shower."
While even his fiercest critics have praised his unflinching support for Ukraine and its leader, Volodymyr Zelensky, it could be the tough economic circumstances and potential energy crisis that lie ahead this winter which will form part of his legacy.
While Johnson has no one else to blame for his departure than himself, the people's paper, The Sun, declared at the weekend that he "by far our most significant leader since Maggie Thatcher" and "achieved monumental feats despite the personal flaws that proved his undoing".
"He got far more right than wrong," its editorial read. "The scandals will be largely forgotten in years to come. The achievements will not."
It is perhaps the type of generous analysis you'd expect from a cheerleading, pro-Brexit newspaper owned by Rupert Murdoch, but, just like his idol, when it comes to what's next for Boris Johnson, you'd never rule anything out.
Get a note directly from our foreign correspondents on what's making headlines around the world. Sign up for the weekly What in the World newsletter here.