"Bless you all, bless you all," said a benign-looking Reggie Kray in suitably ecclesiastical language. It was hard to imagine this conservatively suited middle-aged man with the air of a bank official once chopped up a fellow crook called "Jack the Hat" McVitie with a carving knife.
"We love you Ronnie," shrieked a moll to Reggie's brother, who cold-bloodedly gunned down a man in an East End pub for the crime of calling him a fat poof.
Violet Kray was a legend in the East End. The daughter of a professional boxer called Cannonball Lee, who used to lick a white-hot poker to get money from the market crowds, she was the only person who could exert any control on the wayward twins.
The power of Scotland Yard meant nothing to them. But when Violet told them to drink up the vitamin-rich water in which their vegetables were cooked, they obeyed without question.
No one is really sure to what extent Mrs Kray was aware of Ronnie and Reggie's activities in the fields of murder and extortion. But she always insisted whatever they had done they were always "good boys".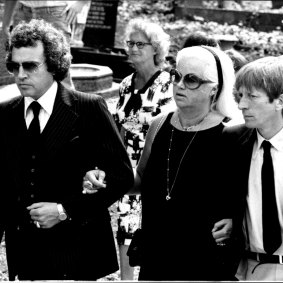 True to her word, she spent the past 13 years of her life criss-crossing the country by bus and train to visit them in a succession of high-security jails.
And when at 73, she heard she had terminal cancer, she continued to make the arduous trips, insisting the twins should not be told of her illness.
Chingford Old Church was where Ronnie and Reggie made their brief half-hour appearance each guarded by six huge prison officers.
And finally Violet was laid to rest beside the grave of Francis Kray, Reggie's wife, who committed suicide at the age of 23 after less than two years of marriage to the feared gangster.
When Ronnie and Reggie were arrested in 1969, they were London celebrities.
Loading
Last week's piece of Cockney theatre demonstrated that 13 years later they remain legendary and oddly reserved figures to many East Enders.
Now there are moves supported by the priest who buried their mother, to win them parole. It is not a view shared the judge who jailed them for life. Recommending they spend at least 30 years behind bars. Mr Justice Melford Stephenson said: "In my view, society has earned a rest from your activities."