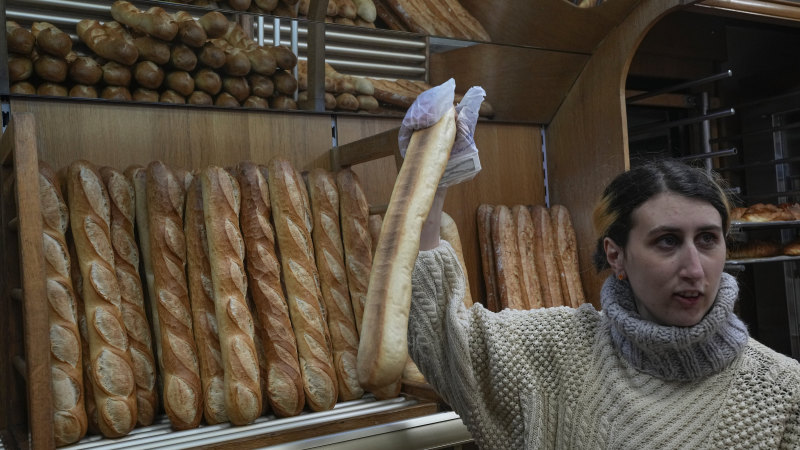 French President Emmanuel Macron gave his "full and complete" support for the bid at the time, calling it a "250 grams of magic and perfection."
Meaning "wand" or "baton", more than six billion – about 16 million a day – are baked each year in France and sold at around €1 ($1.54) each.
Loading
Leclerc, a French supermarket, was earlier this year criticised by traditional bakers and farmers for its much-publicised 29-cent baguette, who accused it of sacrificing quality.
Since 1920 strict rules about what classed as a baguette have been in place, when a new law specified its minimum weight at 80 grams and maximum length 40 centimetres. The French government even regulated a fixed price until 1986. The dough must rest 15 to 20 hours at a temperature between 4 and 6 degrees, according to the French Bakers Confederation, which fights to protect its market from industrial bakeries.
Its origins are unclear, but one popular version is that the bakers of Napoleon Bonaparte came up with the elongated shape to make it easier for his troops to carry, while another credits Austrian baker named August Zang who invented the baguette in 1839.
"Initially, the baguette was considered a luxury product. The working class ate rustic bread that kept better," Loic Bienassis, of the European Institute of Food History and Cultures, who helped prepare the UNESCO dossier, said.
"Then consumption became widespread and the countryside was won over by baguettes in the 1960s and 1970s."
The baguette joins other foods and culinary cultures on UNESCO's list of Intangible Cultural Heritage, including the making of Neapolitan pizza, kimchi, Belgian beer culture, the "Mediterranean diet", and Arabic coffee.
Stephane Lacroix, from the French Yeast Trade Union Chamber, said what distinguished the French baguette from sourdough breads was the yeast fermentation and its lightness.
"Over the years, our French baguette has become the emblem of French excellence and is appreciated throughout the world thanks to the mastery of direct yeast fermentation and the know-how of our French bakers," he said.
Get a note directly from our foreign correspondents on what's making headlines around the world. Sign up for the weekly What in the World newsletter here.