Kathmandu: At least 40 people were killed on Sunday when a domestic flight crashed in Pokhara in Nepal, an aviation authority official said, in the small Himalayan country's worst crash in nearly five years.
Hundreds of rescue workers were scouring the hillside where the Yeti Airlines flight, carrying 72 people from the capital Kathmandu, went down. The weather was clear, said Jagannath Niroula, spokesman for Nepal's Civil Aviation Authority.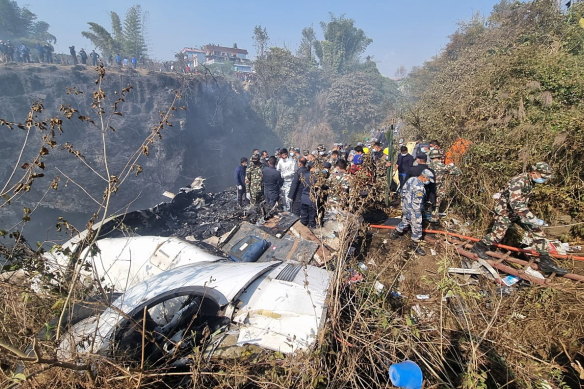 Those on the twin-engine ATR 72 aircraft included two infants and four crew members, said airline spokesman Sudarshan Bartaula. Passengers included five Indians, four Russians and one Irish, two South Korean, one Australian, one French and one Argentine national.
Local TV showed rescue workers scrambling around broken sections of the aircraft. Some of the ground near the crash site was scorched, with licks of flames visible.
"The plane is burning," said police official Ajay KC, adding that rescue workers were having difficulty reaching the site in a gorge between two hills near the tourist town's airport.
The craft made contact with the airport from Seti Gorge at 10:50am (4.05pm AEST), the aviation authority said in a statement. "Then it crashed."
"Half of the plane is on the hillside," said Arun Tamu, a local resident, who told Reuters he reached the site minutes after the plane went down. "The other half has fallen into the gorge of the Seti river."
Khum Bahadur Chhetri said he watched from the roof of his house as the flight approached.