London: Britain's COVID-19 infections are rising sharply with Omicron subvariants sparking new outbreaks across the country and raising concerns that the latest wave could upend health systems and businesses.
The number of people testing positive for COVID-19 is estimated at 2.3 million in the week through to June 24, up 32 per cent from the previous week, according to data published by the Office for National Statistics on Friday. News of a countrywide jump in cases comes a day after regulators reported that England's hospital admissions were climbing again, with intensive-care cases spreading among older age groups.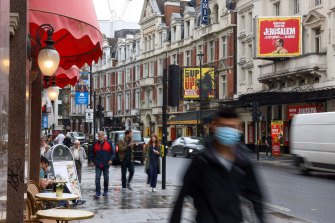 The rise in hospitalisations is still far below previous waves, and widespread vaccination has made the pandemic far less deadly. Still, the latest surge underscores how the pandemic is still taking a toll in even one of the most vaccinated places in the world.
"The constant bombardment of waves we are seeing does cause clinical impact that is not to be underestimated," said Stephen Griffin, associate professor in the School of Medicine, University of Leeds.
The UK is not alone with the coronavirus rearing its head across multiple countries in Europe despite the northern summer – including Germany, France and Italy – with renewed rapid transmissions.
New outbreaks are causing growing absences from workplaces and worsening labour shortages. Last week, German airline Lufthansa said it would cancel 3100 flights, adding to Europe's travel chaos as the holiday period gets under way.
Britain's latest wave is fuelled by two highly contagious Omicron subvariants – BA.4 and BA.5 – which now make up more than half of new COVID cases in England, a government report last week found. The coronavirus is estimated to be infecting every 1 in 30 people in England and Wales, every 1 in 25 people in Northern Ireland as well as every 1 in 18 people in Scotland, according to the ONS.
The rise in prevalence of these subvariants has also led to an increase in hospitalisations and ICU admissions in some other nations, the World Health Organisation said in a report last week. Still, there's currently no evidence that they cause more severe illness than previous Omicron variants, health officials said.