Buttigieg said in a tweet that he is in touch with the FAA and monitoring the situation.
Most delays were concentrated along the east coast, but were beginning to spread west. Inbound international flights into Miami International Airport continued to land, but all departures have been delayed since 6.30am, said airport spokesman Greg Chin.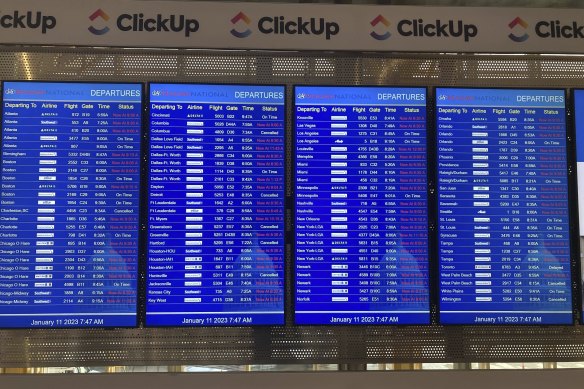 The FAA said it was working on restoring its Notice to Air Missions System.
"We are performing final validation checks and reloading the system now," the FAA said. "Operations across the National Airspace System are affected."
The agency said that some functions are beginning to come back online, but that "National Airspace System operations remain limited".
United Airlines said that it had temporarily delayed all domestic flights and would issue an update once it learned more from the FAA. American Airlines said that it was closely monitoring the situation.
Julia Macpherson was on a United Airlines flight from Sydney to Los Angeles on Wednesday when she learned of possible delays.
"As I was up in the air I got news from my friend who was also travelling overseas that there was a power outage," said Macpherson, who was returning to Florida from Hobart, Tasmania. Once she lands in Los Angeles, she still has a connection in Denver on her flight to Jacksonville, Florida.
She said there have been no announcements on the flight about the FAA issue.
Macpherson said she had already experienced a delay in her travels because her original flight from Melbourne to San Francisco was cancelled and she rebooked a flight from Sydney to Los Angeles.
The FAA is working to restore what is known as the Notice to Air Missions (NOTAM) system.
Before commencing a flight, pilots are required to consult NOTAMs which list potential adverse impacts on flights, from runway construction to the potential for icing. The system used to be telephone-based, with pilots calling dedicated flight service stations for the information, but has now moved online.
There is a potential for widespread disruption because of the outage. All aircraft are required to route through the system, including commercial and military flights.
European flights into the US appeared to be largely unaffected.
Irish carrier Aer Lingus said services to the US continue, and Dublin Airport's website showed that its flights to Newark, Boston, Chicago and Los Angeles were running on schedule.
"Aer Lingus plan to operate all transatlantic flights as scheduled today," the carrier said in a prepared statement. "We will continue to monitor but we do not anticipate any disruption to our services arising from the technical issue in the United States."
The FAA said that it would provide frequent updates as it made progress.
AP
Get a note directly from our foreign correspondents on what's making headlines around the world. Sign up for the weekly What in the World newsletter here.