Earlier large swathes of protesters arrived at Australia's second Test against the country, with thousands marching outside the Galle International Stadium, in Galle, south of Colombo.
The protesters who arrived at the ground were hoping to commute to Colombo for the major march demanding the resignation of Sri Lanka's president, only to be foiled by a lack of public transport.
According to The Age's chief cricket writer Daniel Brettig, about 2,000 peaceful anti-government protesters had marched around the stadium chanting "Go home Gota" in Sinhalese, before heading onto the ramparts of the old Dutch fort that overlooks the ground during the second day of the second Test between Sri Lanka and Australia.
After about an hour, the demonstrators moved peacefully out of the fort and back towards the main road behind the stadium, where their number swelled beyond 3,000 in early afternoon.
Television broadcasters had managed to block out the protesters' chants in the opening hour of play while they refused to show vision.
At least one protester held a banner reading "Thank you Cricket Australia, you've got to go home Gota."
The Department of Foreign Affairs and Trade (DFAT) has been contacted for comment.
The anti-government protesters had been forcibly removed from the fort ramparts by authorities during the second day of the first Australia versus Sri Lanka Test.
An Army spokesperson had claimed the demonstrators were ordered to move on so as not to distract Australia's batters, but the touring side denied any knowledge of this request, or that the protesters had interfered with play.
On the final day of the first Test and day one of the second, the fort ramparts were guarded, preventing any spectators from using it as a vantage point to watch the cricket.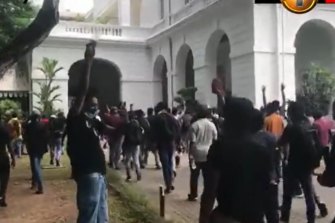 Despite a severe shortage of fuel that has stalled transportation services, demonstrators packed into buses, trains and trucks from several parts of the country to reach the capital to protest the government's failure to protect them from economic ruin.
Discontent has worsened in recent weeks as the cash-strapped country stopped receiving fuel shipments, forcing school closures and rationing of petrol and diesel for essential services.
Sampath Perera, a 37-year-old fisherman took an overcrowded bus from the seaside town of Negombo 45 kilometres north of Colombo, to join the protest.
Loading
"We have told Gota over and over again to go home but he is still clinging onto power. We will not stop until he listens to us," Perera said.
He is among the millions squeezed by chronic fuel shortages and inflation that hit 54.6 per cent in June.
Political instability could undermine Sri Lanka's talks with the International Monetary Fund seeking a $US3 billion ($4.3 billion) bailout, a restructuring of some foreign debt and fund-raising from multilateral and bilateral sources to ease the dollar drought.